SOCIAL
Employment Practices
At Masteel, we are committed to cultivating a healthy work environment by emphasising a sustainable workforce firmly upholding the Group's principles. Furthermore, we continue to employ our five (5) best practices within the Group. This is to ensure that each of our employees will receive fair treatment and that their welfare is well taken care of by the Group.
In addition, we continue to ensure full compliance with the Prevention of Child Labour Policy, Prevention of Forced Labour Policy, and Human Rights Policy which was first introduced in 2021. These policies are well communicated with our employees and available in different languages such as English, Bahasa Melayu, Nepali, and Thai.
We are proud to disclose that we recorded no discrimination or violations of child labour, forced labour or human rights for FY2022.
Human Rights Policy
Masteel strictly emphasises full compliance with the Group Human Rights policy in respecting and protecting the rights of each of our workers, regardless of their position and rank, and the wider communities. We have outlined four main human rights guiding principles to ensure we comply with the policy and respect international human rights standards.
Prevention of Child Labour Policy
The prevention of child labour always remains the top priority across Masteel in ensuring strict compliance with relevant local labour laws and ordinances.  We continue to be committed to zero children and young persons' employment by enforcing stringent procedures in our hiring process.

This policy outlined the fundamental practices to prevent any form of child labour. It is clearly stated, together with our employment terms and conditions that are elucidated in the Employee Handbook. These practices include the following.
We do not provide employment to children and young persons' before they are of legally employable age;
We expect our business partners and associates to have and hold similar standards regarding the prevention of child labour;
We will take serious action, such as discontinuation of business if any of our business partners and associates have violated these principles and have not rectified their actions;
We are responsible for implementing and ensuring compliance with the policy at all of our operations and facilities.
The HR department will conduct internal audits and inspections regularly to ensure zero violations of this policy. In any  circumstances, any child labour violations can be reported directly to our Sustainability Officer, Group Human Resource Manager, or Head of Internal Audit through the whistleblowing platform that is clearly stated in our Whistleblowing Policy.

Prevention of Child Labour Policy

Prevention of Forced Labour Policy
AT Masteel, we do not tolerate any form of forced or compulsory labour as part of our commitment to protecting our employees and associated workers. Therefore, our prevention of forced labour policy distinctly states the four guiding principles below to prevent us from any forced labour issue.

Prevention of Forced Labour Policy

Employee Diversity
Masteel constantly focuses on our employee diversity to strive to be a competent and responsible employer to ensure the team performs to their best ability to provide the business with the utmost quality. In FY2022, we have 821 employees across all of our subsidiaries, accounting for 438 local employees (53%) and 383 non-local employees (47%). We continue to support local talents, especially in hiring underprivileged groups and unemployed youths to boost the local economy and communities. We continuously embrace and support the professional growth of all our employees regardless of their nationality, gender, religion, and race.
New Employee Hires
Employee Resignations
We continue to attract new talents to the Group, which saw 172 new employees comprising 161 males and 11 females. However, the turnover rate was 137 employees left Masteel, comprising 122 males and 15 females.  Compared to the previous financial year, Masteel sees an increase in new hires and a reduction in resignations for FY2022. This proves that Masteel is upholding its commitment to ensuring a healthy work environment that gives equal opportunity to all employees and, at the same time, protects and respects their rights which outlines in Masteel's policies.
Generally, the Group is dominated by males (91%) compared to females (9%). This is mainly due to the business nature of Masteel, a steel manufacturing industry requiring intense physical work and a factory environment. However, we do not discriminate against any individual who is willing to join the Group based on their gender, as this is clearly stated in our Human Rights policy.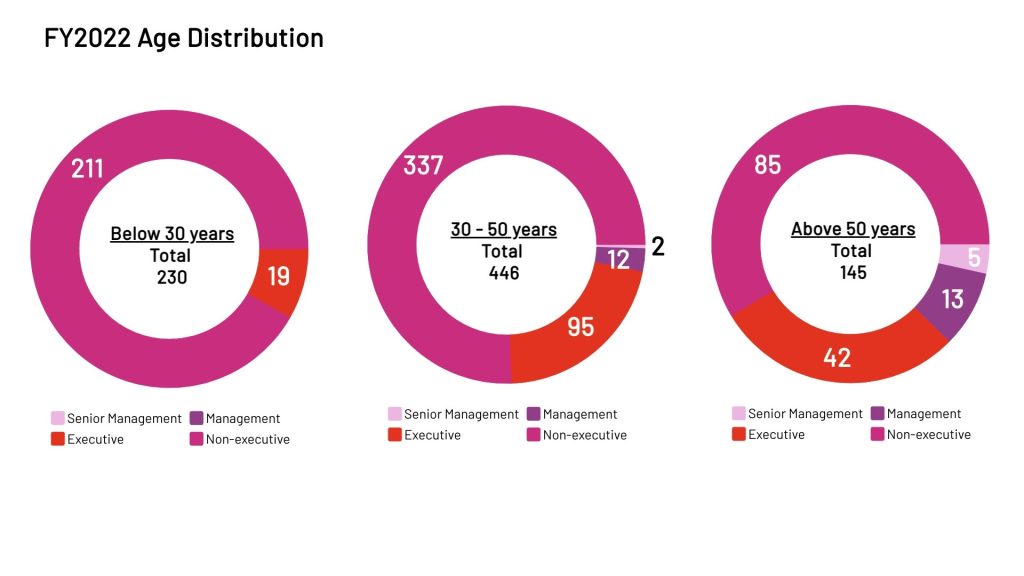 At Masteel, generally, our employees' age group is between 30-50 years old, accounting for 54%, followed by 28% for the age group below 30 years old. Approximately 18% of our employees are above 50 years old. Meanwhile, the Group recorded a majority of 77% of non-executives due to the labour-intensive nature of the Masteel business.
In FY2022, in total, 16 employees have taken parental leave, and all 16 employees returned to work after the parental leave ended. In addition, a total of 10 employees took parental leave in FY2021, and we saw that all of the 10 employees retained their employment with Masteel for the 12 months after their return to work. This shows the strong support and benefits provided by Masteel to all their employees. This positive outlook enables Masteel to continue to grow in its business by retaining its talents.
Training and Development
In order to retain our talents, we continue to nurture their personal growth and talent by continuously providing our employees with various technical, non-technical, and compliance training and workshop. The list of training and workshop conducted in FY2022 is shown in the table below.
We recorded almost double the training hours conducted to our employees from 5627 hours in FY2021 to 10640 hours in FY2022. Similarly, it recorded an increase of approximately 82% in average training hours per employee in FY2022 compared to FY2021. This is in line with our commitment to provide training and development programmes that will enable our employees to be equipped with the latest technology and skills. Through the enhanced training programmes, our employees can gain sufficient knowledge to strengthen the company's growth.
With the rapid development of the industry, we further support the development of our employees through the appraisal assessment, which is conducted yearly. The primary purpose of this assessment is to identify areas for improvement to better equip our employees with the latest knowledge and skills. In addition, through this assessment, we are able to better understand the employees' performance for potential promotions. We conducted the performance review successfully for all our 821 employees for FY2022.
In FY2022, we newly adopted two principles for developing our employees' competencies and awareness through
Malaysia Steel Institute (MSI) training – Technical and safety awareness training was conducted for all new hires.
Yearly Training Plan – A Training Needs Analysis ("TNA") was conducted to identify existing employees' skill gaps and training needs. The outcome of this analysis will then be used to develop the Yearly Training Plan.
Employee Satisfaction